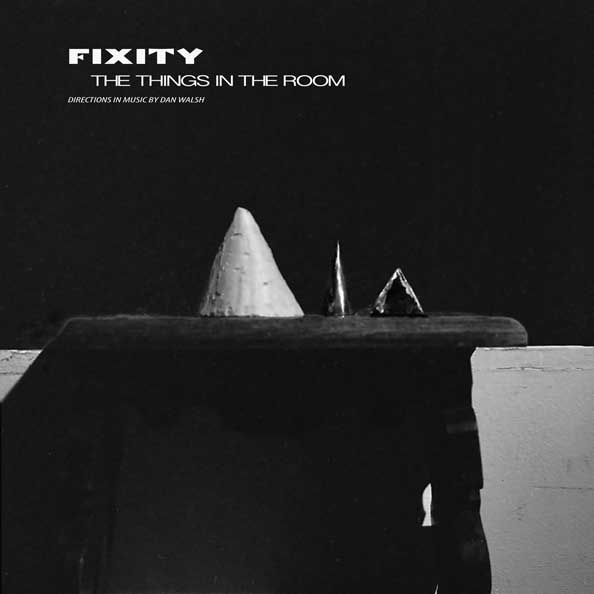 ---
Bandcamp: http://fixity.bandcamp.com/
Twitter: https://twitter.com/danwalshdrums
Facebook: https://www.facebook.com/Fixitymusic
---
Biography
The music of Fixity is composed and/or produced by Dan Walsh. The project's first self-titled album FIXITY was released on the Kantcope cassette Label in July 2016 and presents multi-tracked versions by Walsh of 7 new compositions.
In August 2016 'FIXITY 2' and 'Live In What Used To Be A Church' (with Emil Nerstrand-Saxophones, Kevin Terry-Guitar, James Fortune-Guitar, Declan O'Shea-Bass and Dan Walsh-Drums) presented more music in the form of solo produced and Live ensemble-based releases respectively.
The Things In The Room is the fourth release by Fixity. Recorded in Malmö on the 13th of February 2016 with a band made of up Dan Walsh on Drum Kit joined by Swedish Improvisers Tenor Saxophonist Emil Nerstrand (Brigaden/Heavy Water/The Nod), Guitarist Nils Andersson (Ljom/Ava) and bassist Fredrik Persson (Sista Bossen/The Good Morning Spider/Leo Kall/Cassus) this album comprises of four pieces composed by Walsh explored in collective improvisation with other individuals. Each performance was captured in one take with everyone in the same space. The Things In The Room will be released in late 2016 by Penske Recordings on 2xLP and CD featuring artwork by Mary Kelleher.
Emil Nerstrand – Tenor Saxophone
Nils Andersson – Guitar
Fredrik Persson – Bass
Dan Walsh – Drums and Cymbals
Tracklist:
Blue Paint | Hungry Clouds | The Monk In The Moon | The Things In The Room
Recorded 13th February 2016 at Tambourine Studios Malmö
Engineered and Mixed by Måns Wikenmo
Mastered at Red Red Paw by Antony Ryan
"The Things In The Room is a deep experience. The atmosphere is similar to the black caverns in Japanese legend Keiji Haino's earliest Fushitsusha albums—or even the funereal ambient jazz of German outfit Bohren & der Club of Gore"  – Tristan Bath (The Quietus / The Wire Magazine/ Spools Out)
"…defined by its disregard for parameters." – Brian Coney (The Thin Air)
"We often think of the encounter of the mythical rhythm of Can or closer to us of Aluk Todolo with an inspired Archie Shepp. Their mix of Jazz and Kraut Rock is a total success. The musicians never pour into exuberance, tempering their interventions at the service of incandescent passages" – Kfuel.org
---